Governance & Executive Education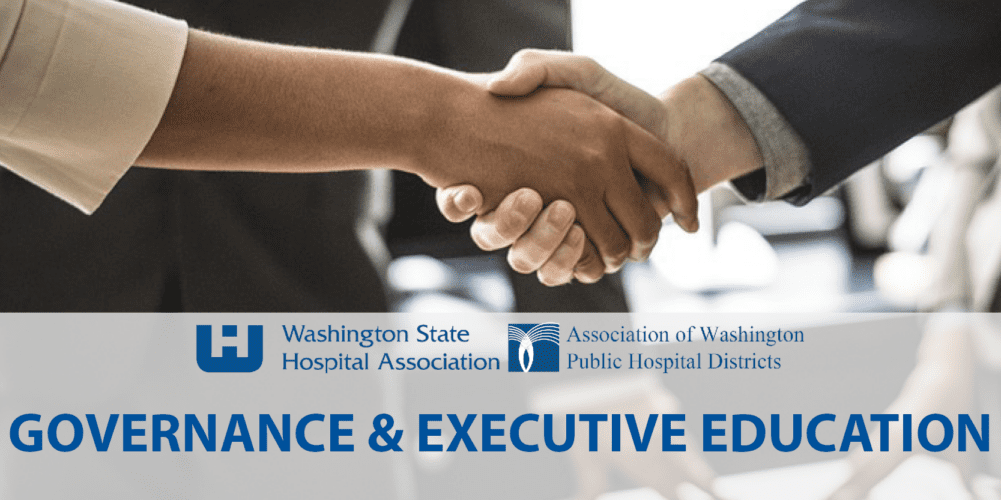 AWPHD in partnership with WSHA offers its members educational opportunities to increase their knowledge and understanding of hospital governance in Washington state. This education assists executive leadership and board members in assessing and enhancing hospital operations and board effectiveness. Register for upcoming courses and access the OnDemand library of content through the AWPHD and WSHA Governance Education Portal. For more information on how to create an account and register for an upcoming session or and watch recorded sessions, use this how-to. Any further questions, please email govedu@wsha.org.
Upcoming Governance & Executive Education Sessions
November 8, 2023 | 10:00 am - 12:00 pm
2023 Public Records Officer Webinar Part II
Speaker: Oskar Rey, MRSC & John Murray, Monument Advocacy
November 13, 2023 | 12:00 pm - 1:00 pm
2023 Diagnostic Excellence
Dr. Randal Moseley, Confluence Health & Trish Anderson, WSHA
2023 Preparing For The Future By Knowing Your Present State: The Importance of Regular Board Self-Assessments
2023 Governance: Rules of the Road
This is an excellent resource for becoming a high-functioning board of commissioners for a public hospital district. To automatically log your credit hour for this session, please login through the Governance Education portal.
2022 Public Records Officer Webinar for Public Hospital Districts